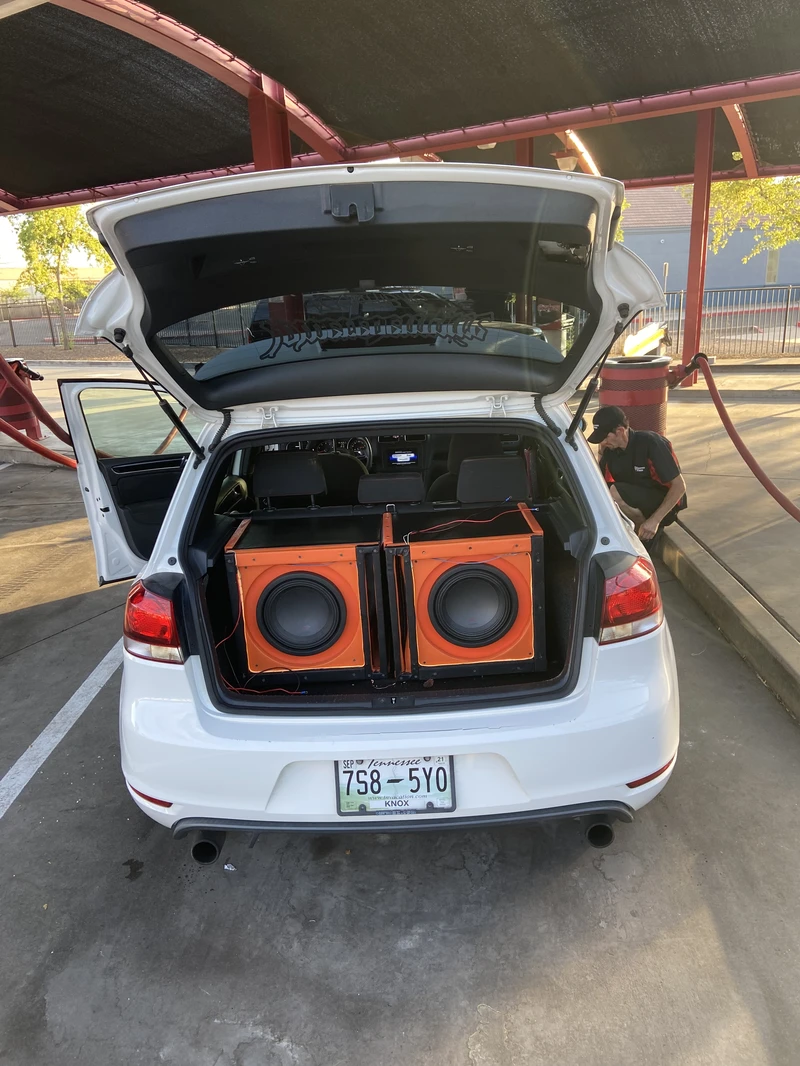 Shelby
I love my ride because i can modify it in so many ways. I have designed and built custom audio and now starting on the exterior and suspension . Lastly i will be upgrading the performance.
View more details
Read less
Number of build records: 3
Audio is complete
Dual Alpine Type R 10 inch subs. 
Dual voice coil 2 ohm resistance rating per coil.
Wired up in series parallel to the amp to run at 2ohm
Custom designed and fabricated enclosures( by me)
¾ MDF walls and vent boards
¾ MDF face plate x 2
Black and orange apolstry vinyl
LED accent lights around the faceplate
Tuned to 35 hz 
Custom designed and fabricated amp rack (same)
¾ MDF
Black and orange apolstry vinyl
¾ cast acrylic plexiglass
I cnc'd my company logo into it and edge lit it with a strip of the same LEDs as subwoofer accent lighting.
All wires ran through a covered space for a cleaner look. Power, Ground, and Remote turn on ran on one side and the speaker terminals and RCAs ran on the other.
Temperature control unit to keep the amp rack cool
2 30mm computer fans wired up to the temperature control unit to kick on when the rack temerature hits 86 degrees f. One fan takes in cool air from outside the rack circulates it to cool the amplifier and the other fan is reversed to pull the hot air out of the rack. And 2 30mm pvc tube used to help funnel the air into and out of the amp rack.
Alpine S2-A120M monoblock amplifier discounted by sonicelectronix.com and carsponsors.com
1200 watts RMS @ 1 ohm 
1200 wats RMS @ 2 ohm
Two distrobution blocks 1 input to 2 output. Used to split the 4 gauge power and 4 gauge ground. Another fused distrobution block with 6 positive and 6 negative terminals to power the temperature control unit, and LEDs.
Orange rock lights for the footwell area from fcklightbars.com
New Wheels are on the way
Today I purchased my 18 x 9.5 +35 deep dish wheels. Can't wait to receive them and get them installed. 
Next
I am planning on wrapping her in matte orange vinyl or painting her that color. I might replace the hood with a carbon fiber hood. I am wanting to get air ride suspension set up and replace the stock wheels with an 18 x 9.5 +35 offset and do a fender to lip fitment dropping her. I have just put in fcklighting.com amber rocklights for footwell lights in the interior . (Use promo code Masterson_GTI for a discount on parts). Now plan on getting neon under carriage lights. I did some bodywork on the front bumper and re-painted and clear coated it. (Before and after pics included)
Add a Comment
Utilize the @username feature to efficiently bring other members into the conversation